Bio, Tour Dates, The Things I Do, Photos,
Links, CDs, Gear, Discography, Reviews, Contact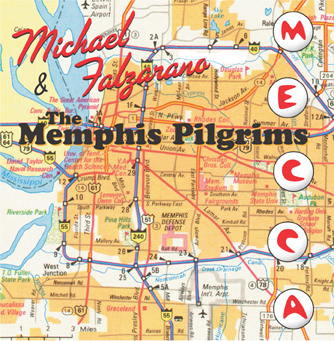 Special Guests: Jorma Kaukonen, (Hot Tuna / Jefferson Airplane) Danny Lewis (Goverment Mule),
Pete Sears (Hot Tuna / Jefferson Starship), Larry Packer (Cat Mother And The All Night News Boys), and Dave Castiglione
Now Available on
iTUNES, APPLE MUSIC, SPOTIFY, PANDORA, DEZZER, YOUTUBE, AND AMAZON
The songs
I Was The One, I Want You Back, Everything Changes, Damned If You Don't, Damned If You Do
You Haunt My Soul, Love Gone Flat, Oh Kathleen, It's Just My Way, Kept On Keeping On,
Judge, I'm Not Sorry, Saturday Night,
Michael Falzarano & The Memphis Pilgrims
I started The Memphis Pilgrims in 1987. A friend decided to throw a party on Elvis' ten-year death-a-versary in New York where I'd moved the year before after having spent ten great years in San Francisco. I thought The Memphis Pilgrims was a great name for the band because Memphis, the home of Elvis, is also the birthplace of rock 'n' roll in my opinion. I think every music lover should make a pilgrimage there at some point to see Graceland, Beale Street, Sun Studios and the like.
Anyway, I remember that first show clearly. The drummer I hired called to say he couldn't make it, but was sending another drummer to do the gig. His replacement showed up with a broken leg and cast from the bottom of his right foot to his groin. The bass player never showed up at all, and I got a bass player friend-of-a-friend to play who happened to be there. It turned out to be a lot of fun despite the fact that I had never met anybody in the band and never saw them again.
I'd played on and off with Hot Tuna since 1983. While I was touring with them, I met Michael Slater and Steve Sacher, who later joined The Pilgrims. Shortly thereafter we got underway full time along with drummer Eliot Rachman. The band had many others drummers, but unfortunately I've forgotten their names over the years. One drummer that I remember, however, we nicknamed Happy. He had a day job as a window washer for many of New York's skyscrapers. He'd rock out all night and drink and party like the rest of us, then somehow manage to keep his balance on the scaffolding the next day.
The Pilgrims continued to play together for a few years all over New York City and the surrounding area before recording a five-song EP. Then in 1989 I hooked up with Hot Tuna again full-time and put The Pilgrims on hiatus until the early '90s. Although I've always loved playing in Hot Tuna and have both written and co- written many songs for the band, I still had a body of work that wouldn't fit in the Tuna format. The Memphis Pilgrims allowed me to showcase that material while collaborating with other musicians.
The hiatus ended with a new version of The Memphis Pilgrims which included Hot Tuna drummer Harvey Sorgen, bassist Steve Rust, guitarist Jimmy Eppard and eventually keyboardist Professor Louie. We worked often during my off time from Hot Tuna. We recorded an album of 12 of my songs, Mecca, for Relix Records in 1997. It got great reviews and sold well, but along the way Relix changed hands and the album went into out-of-print limbo. So I bought back the master and re-leased it myself with help from Woodstock Records and AMD Music
The 12 tracks on Mecca feature Sorgen, Eppard and Rust along with Danny Lewis of Gov't Mule who many people refer to as the 5th Pilgrim as he played on most of the tracks. I was also joined by Jorma Kaukonen and Pete Sears of Hot Tuna, Larry Packer of Cat Mother and the All Night News Boys (the only band to be produced by Jimi Hendrix and one of my faves from the '70s) and Dave Castiglione on sax.
There have been many fine musicians who have spent time in The Memphis Pilgrims over the years and who have helped me with my vision for this band. I want to thank them all for their help and support on this journey – for without them it would not have been realized. Michael F.
Reviews
"The Memphis Pilgrims…have an authentically Southern feel [and are] one of the best new Downtown bands [who] are simply and wonderfully a real rock 'n' roll band." – East Coast Rocker
"Mecca is chock full of a good time, high energy performances and inspiring, infectious grooves. Congratulations to Michael Falzarano and the Memphis Pilgrims for one of the best CD's I have heard in a long time." – Beat Magazine
"This is a band with enough moxie and gusto to get your soul shakin'." – Downtown Magazine
"Everything about 'Mecca' screams that [this is] a band that you need to catch live to truly get your ya-yas out. You can't go wrong with The Memphis Pilgrims." – The Daily Freeman
"Musically, the Memphis Pilgrims are a vehicle for Michael Falzarano. His guitar and voice drive all the tracks on the album. [They] are an honest, straight ahead, unaffected Rock and Roll band." – Journal of Trionic Physics